kolibri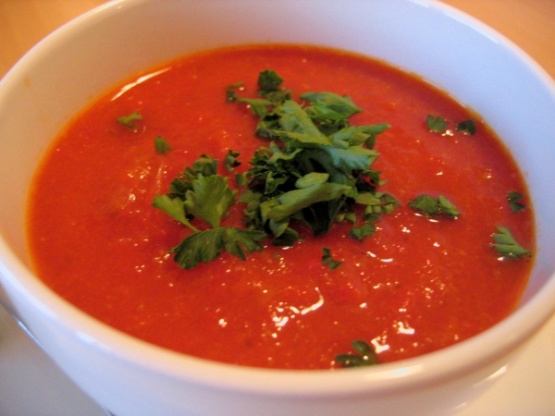 This is a fabulous summer-time soup for the on-the-go individual! Its so easy! Cook time is chill time.

This was surprisingly complicated recipe - I've never roasted peppers before (although I've seen it done) so that was a new experience. I added in some garlic cloves in too, but should have put in a lot more as the taste is quite mild. The soup is very sweet from the peppers, and I served it with some fat-free natural yoghurt. I think this would make a good dip too - just add some halopenjos.
Preheat broiler or heat your grill to high and broil or grill your peppers and onion slices for 12 minutes or until pepper skins are blackened and onions are tender.
Place peppers in a plastic bag and seal and allow them to sit for 15 minutes to steam.
Chop onion slices.
Peel peppers and chop.
In a medium sized pot, saute onions and peppers in olive oil for 5 mins, add broth and simmer 15 minutes.
Pour into a food processor or blender and puree until completely smooth.
Stir in 1/4 cup pesto and chill.
Divide soup among four bowls and swirl 1 Tablespoon pesto into each bowl.
Serve.