Chilled Peach and Nectarine Soup
Meggly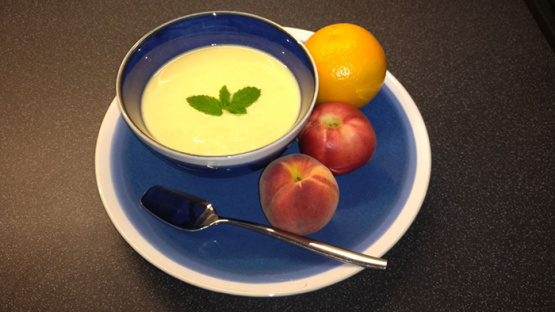 Originally this recipe, which came from a Gourmet magazine, called for peaches. Because I had not purchased enough peaches I substituted nectarines and since then that is the way I make it. Very refreshing in the summer and even men (who normally do not like cold soup) seem to enjoy it.

Top Review by Meggly
This is really delicious. It is more like a smoothie, but it tasted fantastic and is easy to make. We even tried it with Greek yogurt replacing the sour cream and it was still tasty! I would definitely recommend this to anyone. It is an excellent way to get some extra fruits in during summer too!
5

peaches, peeled, pitted and sliced

5

nectarines, peeled, pitted and sliced

2

cups fresh orange juice
3⁄4 cup pineapple chunk, canned and drained
1⁄2 cup pineapple juice, that was drained from the can

1

teaspoon ground ginger (or equivalent in fresh)

1

cup sour cream
mint sprig (to garnish)
Puree fruit with 1/2 cup of the juice.
Transfer to a large bowl.
Stir in remaining 1-1/2 cups orange juice.
Puree pineapple with 1/4 cup reserved juice and stir into fruit puree.
Whisk in ginger, sour cream and enough of the remaining pineapple juice to thin the soup.
Stir in confectioners' sugar if you want it sweeter.
Chill several hours until very cold.
Serve garnished with mint and reserved fruit slices.