Prep 10 mins
Cook 15 mins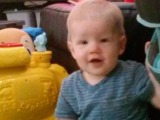 I found this recipe in the Chicago Tribune. I made this salad for lunch the next day. I wanted to share this with everyone. Hope you like the salad.
Directions
Prepare Orzo as directed on the box.
Combine all ingredients.
Toss gently to coat evenly.
Keep refrigerated until ready to serve.
Reviews
Most Helpful
This was a very beautiful salad. I too, saw this in the newspaper and I thought it looked like it might be really good. It was good. But it wasn't spectacular. I guess "lite" things are never as tasty as full fat!!