Annacia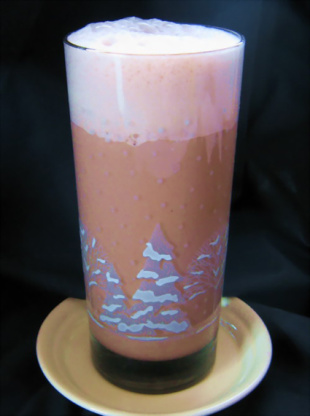 This drink is a mix between a mocha on ice and a mocha frappuccino because I love my drinks cold, but I don't tend to like icy drinks. Try it- it's delicious!

I made 1/2 a serving which gave me a big glass full. To trim the sugar I used a tsp of Dutch cocoa powder in place of the chocolate syrup. I wanted a less strong coffee drink and used 1/2 a tsp of instant coffee with a hand full of frozen coffee cubes. I also cut back on the cinnamon, even though I'm a real hard core cinnamon lover a tbsp in one glass would be mighty potent so I used 3/4 tsp. The end result was a very tasty drink that I enjoyed.
1

tablespoon instant coffee
about 2 cups water

1

tablespoon coffee creamer, any flavor (I use sugar-free hazelnut.)
1⁄4 cup chocolate syrup (I use Walden Farms' calorie-free chocolate syrup.)

8

(1 g) packets sugar (I use Splenda)

1

tablespoon cinnamon

5 -6

ice cubes
-Put coffee in a tall glass and add water.
-Put in freezer for 10-15 minutes to chill.
-Pour into a blender, add the remaining ingredients, and blend.
-Enjoy!