fawn512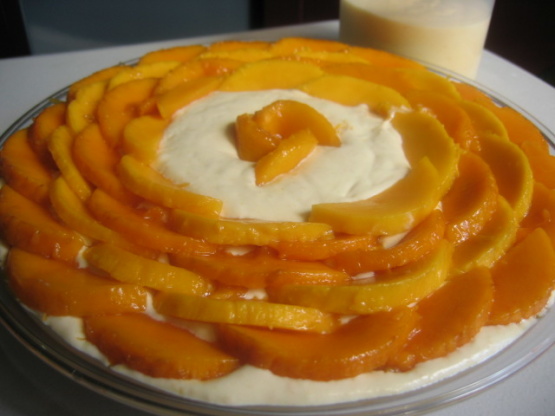 from a blog. I didn't use the mango puree topping

I gave this recipe to my sister who made it recently. It was fabulous, with a light fruity flavour. I imagine peaches could easily be substituted for mangoes in this recipe so it could be made more often.
Toss cake base ingredients into melted butter and press firmly on to base of cake pan. Chill in the fridge for use later.
Whip whipping cream with 2 tbsp icing sugar till about 70% stiff or mousse state, keep chilled.
Dissolve gelatine powder in 3 tbsp boiling water. Keep warm but not hot for use later.
Cream cheese, sugar, lemon juice and rum together till smooth and creamy.
Add the warm gelatin solution to mango puree and blend well.
Stir mango mixture into cheese mixture and combine till well mixed. Blend in the whipped cream. Stir in the cube mango pieces (optional).
Pour cheese mixture onto cake base and chill for at least an hour.
Dissolve gelatin powder with 2 tbsp boiling water and stir this into mango puree. Pour topping gently onto chilled cheesecake. Chill for at least 3 hours before serving.
Notes: To obtain a smooth mirror like mango puree topping, please strain the mango puree mixture.