Chilled Cream of Cucumber Soup
COOKGIRl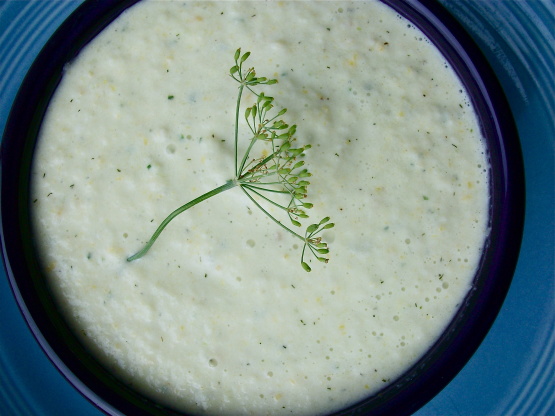 I have to be honest here. I really dislike cucumbers and dill and I have never tried this soup BUT I have made it for a summer cook out on the very high praise of the lady who gave it to me. It was well liked by my husband and the couple we had invited to dinner that night. I'm passing it along so that cuke fans might enjoy it. As written this is made for 2 but I doubled it it seemed to be fine. Cook time is chill time.

This was pulled together in five minutes and made for a very refreshing, soothing dinner! I used two varieties of cucumbers from the garden and fresh dill. I skipped peeling the cucumbers, too. Full fat Bulgarian buttermilk, Tillamook full fat sour cream, doubled the amount of olive oil and vinegar (white balsamic). Fresh dill from the garden as well! Everything was pureed in a blender. Thanks for posting! Reviewed for Ramadan Tag Summer 2009
Coarsely purée cucumbers in a blender or food processor.
Transfer to a metal bowl and whisk in remaining ingredients and salt to taste.
Cover bowl and chill 30 minutes, stirring occasionally. Serve in chilled bowls.