Chilled Cantaloupe Peach Soup with Ginger & Mint
msmia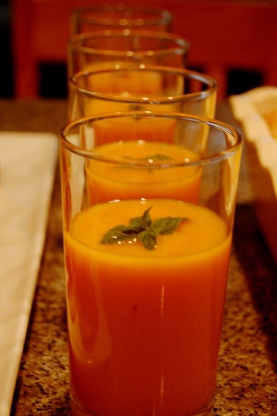 I made this in the summer and the taste was amazing.
Top Review by msmia
One Million Stars! Just delightful! I admit to going overboard w/ the ginger (probably used ~ 1T) and didn't bother w/ the honeydew melon as we were trying to have a beautiful "orange" color on the table - but I wouldn't change it! the peppery ginger flavor really was the star of this stunning dish! Thanks!
Remove skin and seeds from cantaloupe and dice the flesh.
Cut peaches in half and remove stone.
Place cantaloupe, peaches, ginger, tabasco sauce, cream cheese, and lime juice in a blender and puree until well blended.
Strain if necessary.
Garnish with honeydew melon and fresh mint.
Serve in chilled bowls.