melewen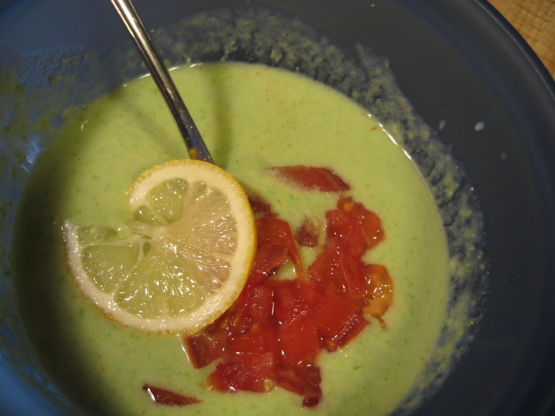 This recipe is a great solution for those hot summer days. The avocado poses a truly unique taste and the red pepper gives it just the right amount of tang.

Update: I make this in the food processor today, first put in the avocado, then the water and milk, and it came out like butter soup.. in a good way. It was really creamy and really smooth. On occasion I toss in a little finely chopped cilantro. Delicioso
Slice the avocados lengthwise into fourths.
Press through a sieve into a mixer bowl.
Add the water, milk and lemon juice gradually, beating until the mixture is smooth.
Stir in the seasoned salt, pepper sauce and tomato.
Chill, covered, in the refrigerator.
Spoon into soup bowls.
Top with the lemon slices.