Chilled Avocado-Orange-Chicken Soup
Rita1652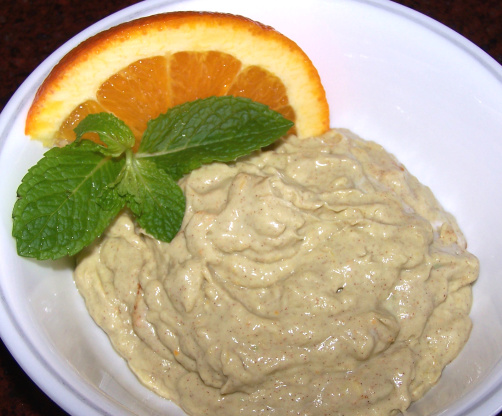 A refreshing chilled soup ideal for hot weather luncheons or dinners, which you can have on the table with little preparation. If you are making the soup several hours ahead and the weather is really hot, one option is to chop the orange segments and freeze them in an iceblock tray in some extra orange juice, with chopped mint leaves. Then add an iceblock to each soup bowl when serving. If you want to add some spice, add hot pepper sauce, to taste. Ideally this soup will be chilled for several hours before serving but since most of the ingredients will have come straight out of the fridge, if you don't have much time, 30 minutes chilling time should suffice. Chilling time (passive work time) is included below as the 'cooking time'. For an alternative flavouring, and to give this dish a Mexican twist, use lime juice and zest instead of orange juice and zest, use chilli powder instead of cinnamon and garnish with slices or segments of lime instead of orange. You could also substitute something more Mexican for the wine!
Peel the avocados, remove the stones and chop roughly.
Combine the avocado, diced chicken, orange juice, orange zest, wine, yoghurt, salt and ground cinnamon, then process in a blender or food processor until well-blended.
Refrigerate for 30 minutes.
Garnish with orange segments and mint or add an orange-iceblock to each bowl - and serve.
Chef's Notes: If you are able to plan ahead, cook an extra chicken breast a day or two before when preparing another meal. However, if you are short of time or want to make this a vegetarian soup, instead of the diced chicken breast, add an additional avocado. You can, of course, also vary the orange juice-wine ratio.