Rita1652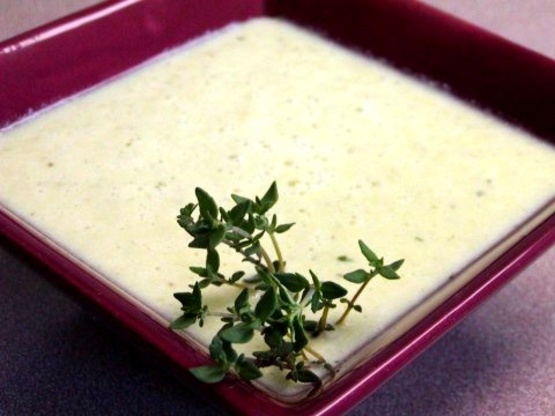 This soup is to artichokes what vichysoisse is to leeks! Delicious as a starter (particularly for an Italian meal) or lunch on a warm day. If you are stumped by the metrics, don't forget you can use the handy converter provided by 'Zaar (to be found just after the quantity). Preparation time DOES NOT include 3-4 hour chilling time.

This was very good, a great summer soup. Now I am asked to make it for every dinner party I have. I didn't have any whole hearts, so I just used paste and it worked fine.
Warm the olive oil in a large saucepan and saute the onion and garlic just until they are softened, but not browned.
Add the artichoke hearts and vegetable broth to the mixture.
Bring to the boil, then reduce the temperature to a simmer; partially cover the pan and allow to simmer for 3 minutes.
Remove from heat, and puree the mixture with a hand blender (or do the same in a food processor) until smooth.
Return to the saucepan and allow to cool completely.
After it is cooled, add the sour cream and the thyme.
Place in the refrigerator, covered, for 3-4 hours before serving.
When serving, garnish each bowl with sun-dried tomato strips, if desired.