gailanng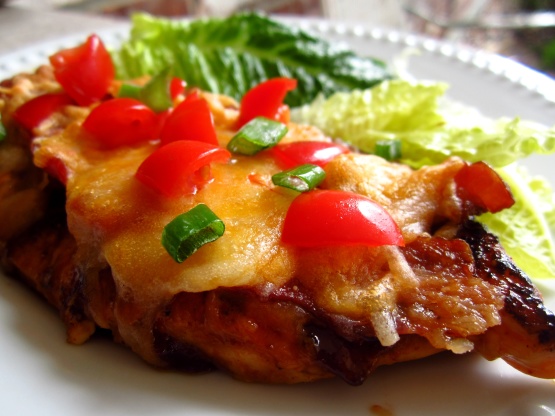 From Copykat.com (http://www.copykat.com) This is traditionally served as a sandwich but may be served as is!

Great recipe. I worked at Chili's for a couple of years and absolutely love this dish. The only thing is in order to make it truly authentic you need to cook the chicken on a gas grill, not over the stove, and it's best to melt the cheese under a broiler. That's how they do it at the restaurant. Other than that it's perfect :-)
Pound chicken breast until it is somewhat flattened, and season with salt and pepper.
Spray Pam in a nonstick skillet, and cook chicken breast until it is done.
Transfer to a serving plate.
Top chicken breast with Barbeque sauce, bacon, and cheese.
Broil chicken breast in the oven, or melt the cheese in a microwave.
Sprinkle with a small amount of cold chopped tomatoes and chives.