Chili's Egg Rolls-Lightened Up!!!
Nimz1466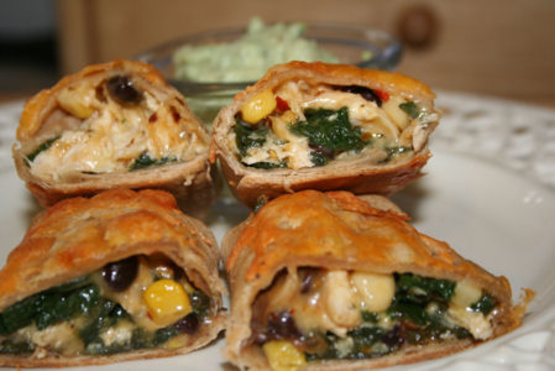 This is the light version of the oh so fabulous, but oh so fattening Southwestern Eggrolls from Chili's Restaurant and Grill. Now I feel better:-) And only 3 WW points!! Serving size is for 1/2 the recipe.

I really enjoyed this recipe. I had to make a few substitutions, as I did not have all of the necessary ingredients. My egg roll consisted of lettuce (with chipotle dressing) instead of spinach. I didn't have tortillas, so I actually rolled the filling up in large wonton wraps. They probably came out crispier than the tortillas would have. Otherwise, I stuck to the recipe and was quite pleased with the results.

These rolls would probably be better applied as appetizers for a small dinner party opposed to being the main dish. However, for my personal party of one, I gobbled them all up. They're easy to make according to the directions. You can also experiment and test out what you like.
Preheat oven to 400 degrees.
Combine chicken, corn, cheese, chili pepper, and spinach in a microwaveable bowl.
Heat for 30 seconds in micro.
Warm tortillas in micro for 15 seconds.
On a clean, flat surface, lay out tortillas side-by-side.
Put 1/3 of chicken mix in the center of each tortilla.
To assemble each roll, fold the left and right sides in so no filling escapes during cooking, and roll up.
Place all 3 rolls seam side down on a baking pan that has been sprayed.
Bake 12 minutes, flipping 1/2 way through cooking.
While eggrolls are in the oven prepare dip.
Sauce:.
Combine sour cream, avocado, and dry dip mix in a small bowl until smooth.
Season to taste with pepper.
Top dip sauce with tomatoes before serving.
When eggrolls are done, allow to cool for a few minutes, then cup diagonally.