Chilied Chicken and Hominy Soup
Acerast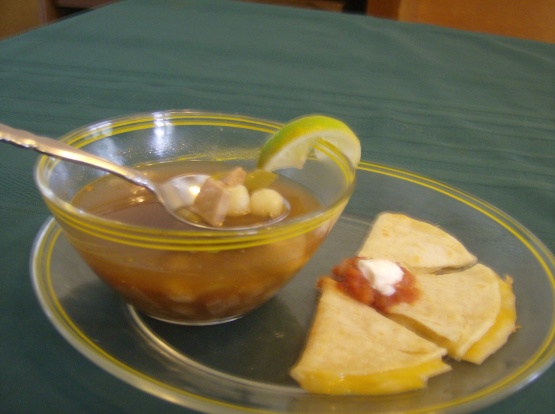 Hominy and chicken combine in this chili flavored broth-based soup. Spicy, so hold on to your hat! More chicken can be added if desired. WW points = 4/serving

DH was in heaven when he sat down to a bowl of this soup and a cheese quesadilla. Hominy has such a unique taste and it really worked well with the combination of chicken and seasonings. This soup is very light and has a lot of spicy broth so is perfect for a lunch with a salad or sandwich or as a starter for a mexican meal. This will be a regular at our house. Thanks Brooke the Cook in WI. Made for ZWT5.
Brown chicken over medium-high heat in saucepan.
Remove chicken from saucepan, keep warm.
Reheat saucepan to medium heat and saute onion and garlic until onion in translucent.
Add cooked chicken, chicken broth, oregano, and chili powder and combine. Reduce heat to low cover and cook 15 minutes.
Add hominy cook 15 more minutes.