Maggie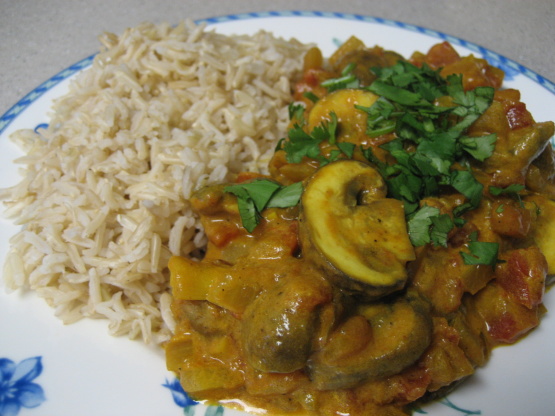 This is from one of my Indian cookbooks, and is so easy and delish! The recipe calls for cremini, but you can substitute plain button mushrooms too. These are good as an appetizer with naan, or as a side dish to tandoori meats, or even plain grilled meats.

Reading the reviews, I was expecting a great recipe, but none of us enjoyed it. We ate it, but I wouldn't make it again. Like another reviewer, I also used about 1/3 of the butter called for and used low fat yogurt, but I don't think that was the problem, since I always use very little oil and low fat yogurt in recipes.
Melt the Ghee in a large skillet or wok, over medium-high heat. Add the onion and saute, stirring frequently for about 5-8 minutes until they are golden.
Stir in the garlic and saute another 2 minutes.
Add the chopped tomatoes and their juice and mix. Stir in the turmeric, garam masala and chili powder and continue cooking for an additional 3 minutes.
Add the mushrooms, sugar, and salt, to taste, and cook for about 8 minutes until they have given off their liquid and are soft and tender.
Turn off the heat and stir in the yogurt, a little at a time, stirring very well so it doesn't curdle. Taste and adjust the seasoning if needed.
Sprinkle with cilantro and serve.