Chili With Sausage and Jalapeno
Derf2440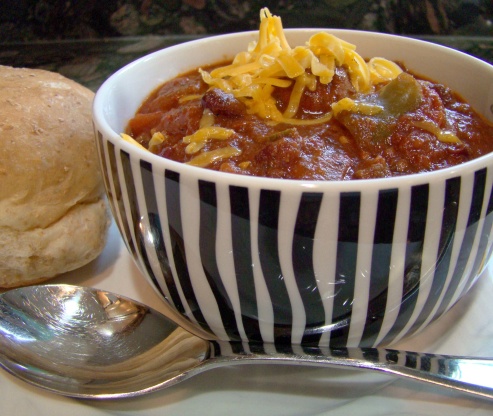 This is a real tasty sweet and spicy beanless chili that I tried from Bon Appetit magazine. The recipe was found in the RSVP section as a request from a restaurant in Rochester New York called Dinosaur Bar-B-Que. We loved it and beans could be added easily if you are a bean fan.

This is one of my go to recipes. It gets rave reviews every time I make it. I made a few small changes to make it my own, but I think it would be just as delicious as is. <br/><br/>I leave out the ground beef and use 1 lb beef kielbasa, sliced into about 1/4" thick semi circles. I change out crushed tomatoes for diced. I cut the brown sugar in half. And I add 2C cooked kidney beans at the end (about a can). Thanks so much for sharing! <br/><br/>I wanted to share the love, so I posted a link to this on my fledgling blog at theexperimentalgarden.blogspot.com/
Heat 2 T.
oil in a large pot over high heat.
Add beef and sausage; cook until brown, breaking up with spoon, about 8 minutes.
Transfer meat mixture to bowl.
Reduce heat to medium high.
Add remaining oil to pot.
Add onion, bell pepper, jalapenos and bay leaves.
Cook until vegetables are soft, stirring frequently.
Add garlic; sauté 1 minute.
Return meat mixture to pot.
Mix in tomatoes and next 7 ingredients.
Simmer 25 minutes, stirring occasionally.
Mix in lime juice.
Season with salt.
Serve chili in bowls, passing hot sauce, cheese, red onion and sour cream separately.