loof751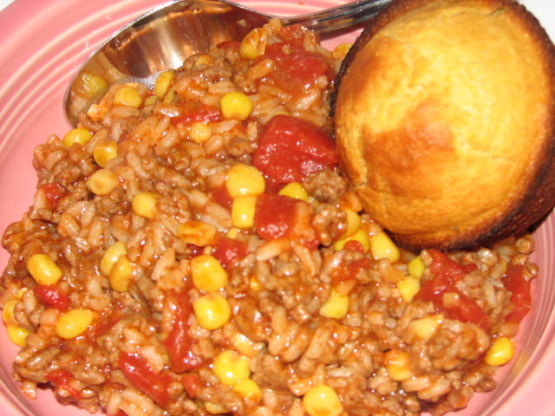 I didn't know what to call this recipe because it is one I have made up. Or maybe I adapted it from something many years ago. This is a nice spicy chili dish that is prepared in one large skillet. Very tasty and good comfort food.

This is good and easy to make. I was a bit confused with the ingredients/directions. I wasn't sure why there were two measurements for water. I used about a cup of water as that seemed like more then enough. The recipe also didn't state what type of canned tomatoes so I used crushed. I also used brown rice as that is what I had in the cupboard. I didn't use the oil to cook my burger, actually I used frozen cooked burger. This reheated well for lunches.
Chop onion and begin browning in large skillet in the oil for a couple of minutes. Add the ground beef and brown.
While the meat and onions are browning, bring a pot of water to a boil and add the long grain rice. (This is just to pre-cook the rice) Keep on a gentle boil for approximately 15 minutes, drain.
To the skillet with the browned meat.
Add the entire can of tomatoes including the juice, breaking up the large pieces. Add the can of corn which has been drained and add the partially cooked rice.
Add approximately one cup of the beef stock. Season with the chili powder, salt and pepper to taste.
You should have a fairly runny mixture at this point. Don't worry, the rice will soak up the liquid as it finishes cooking.
Cover the skillet and allow to simmer for about 1/2 hour or until the rice is cooked through.
I like to taste it and add more chili powder to suit my taste.