This is a classic Mexican recipe that I hope you'll enjoy. It's been modified to be low fat without detriment to the dish. Give it a try, you won't be sorry.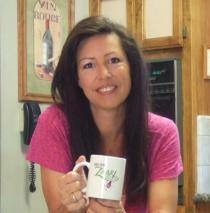 I thought I had posted my review for this days ago...dunno what happened! But I do want to say it is fabulous. Loved the seasoning with the pork roast, very easy to make. My family loved it. Thanks for sharing Made for ZWT3. ~V
Place pork in a wide nonstick frying pan.
Drain about 1/2 cup liquid from tomatoes into pan. Bring to a boil over high heat; then reduce heat, cover, and simmer for 30 minutes.
Uncover pan; add onions, celery, oregano, and sage.
Cook over high heat, stirring often, until liquid has evaporated and drippings are browned (8 to 10 minutes).
Add bay leaves. Cut up tomatoes then add tomatoes and their remaining liquid and stir to scrape browned bits free.
Reduce heat, cover, and simmer for 30 more minutes.
Stir in bell pepper and chilies; cover and continue to cook stirring occasionally until pork is very tender when pierced (about 15 more minutes).
If chili is too thin, uncover and simmer until it's as thick as you like.
Skim and discard fat, if necessary.
To serve, spoon chili over rice and garnish with cilantro sprigs.