flower7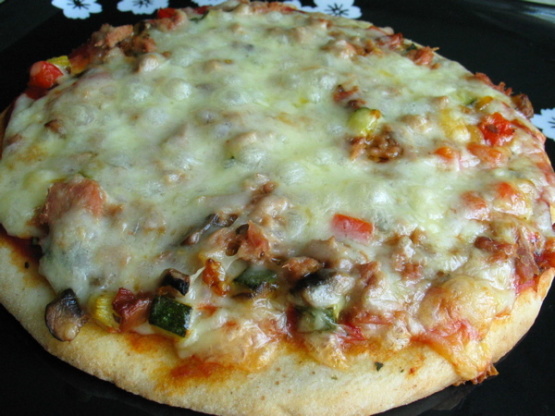 Pizza was very popular in our house a while back, and when i made this favorite recently for my brother, he loved it. It's so simple to make using pita bread to make a thin & crispy base.

This was very good and I think would have been even better if I'd had chili tuna available. I improvised by using a little sesame-chili oil when I sauteed the veg. but could have used more (I was afraid to use too much!) I had enough veg. & tuna left over to make a third pizza (and I didn't even use the full amounts of veg. called for). I love to use naan bread for pizza crust so did that here instead of the pita and used monterey jack cheese. Thanks for the nice, healthy dinner!
Preheat the oven to 180degC.
Chop the onion and other vegetables to pieces about 1cm cubes. Heat a frying pan, drain the olive oil from the tuna can into the pan adding the onion,garlic (and optional sun-dried tomato and extra chili).
When the onion is soft, add the capsicum & zucchini and stir until zucchini is starting to cook and remove from heat.
Put a little olive oil around the edge of the pita bread with a pastry brush to ensure the edges don't burn (as the bread is thin it burns easily).
Spread your pizza sauce over the bread.
spread over with a thin layer of cheese (to stop your topping from falling off while you're eating it).
Empty the frying pan contents onto your prepared pita bread bases and add the mushrooms and the tuna.
Scatter the remaining cheese over the pizza and place in the oven for about 20 minutes.