Chili Stuffed Sweet Potatoes / Yams
loof751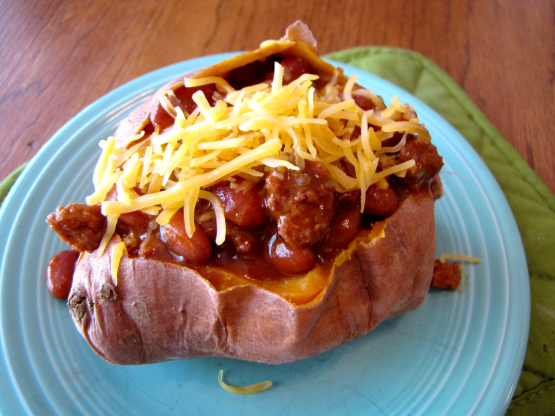 Was baking sweet potatoes one evening when DH want to know what I was doing with the chili in the frig. So warmed up the chili and he stuffed it in his sweet potato and topped it with cheese. These reheat well when packing for work lunch.

Well this was a pleasant surprise! I like chili on a regular baked potato but never thought to try it on a sweet potato. It's really great! The richness of the sweet potato is great with the spicy chili and beans. I only used a little cheese and this made a great tasty lunch - thanks for sharing the recipe!
Bake potatoes at 375 F for about 45 minutes or until tender.
Warm chili beans while potatoes bake.
Slice potatoes down the center but not all the way through and gently push in the ends so the potato forms a boat.
Add about a 1/4 cup of chili to each potato. They should be full but not overflowing.
Top with cheese and enjoy.