Marlitt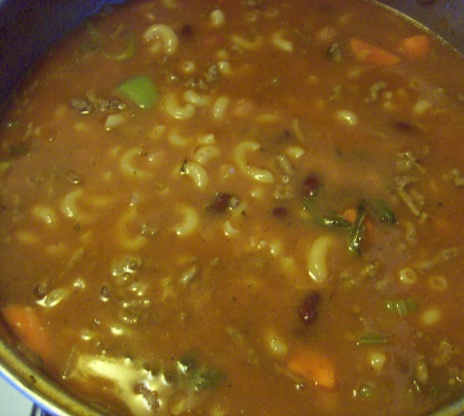 This is my Grandma Dorothy's recipe for a slightly different take on your average chili. We ate this very often growing up. It is just as good reheated and even can be frozen. Simple to make on those nights you don't have a lot of time, and is a great way to stretch a dollar! When my mom makes this she makes it in a very large pot and adds more water and spices, but still uses the same amount of sauce, and soup, etc. So you can stretch this to more if you'd like by adding more water and spice to your taste. She also doesn't usually measure things out so estimated on ingredient amounts as well as time to make.

This was good. I added a can of black beans, cubed ham, chopped spinach and grated carrots. I also sauted the onions with the beef. The flavor was a bit bland so I added a bunch more chili pepper and it turned out great. I love how easy this recipe was and I will definately be making it again. Thanks for posting!
In large saucepan bring approximately 8 cups of water to a boil. Add the elbow noodles as well as the tomato sauce and kidney beans and cook pasta til done according to box directions. DO NOT DRAIN!
Brown beef in saucepan, and drain. Add tomato soup, and chili powder to beef and let simmer for a couple of minutes.
Transfer meat mixture to the pot of cooked noodles (with water) and stir well. (Add more water if too thick -- should be a brothy soup consistency).
Allow to heat through and serve with cheese and onion to taste in each bowl.