Jewelies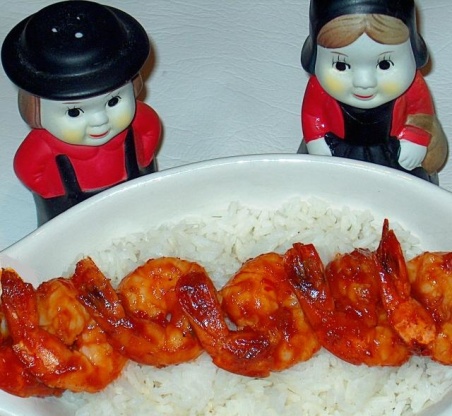 this quick easy meal can be ready in under 30 minutes, courtesy of mark bittman

This should have more reviews because it's really tasty. I used 1/2 teaspoon red pepper flakes and 1.5 lbs shrimp. It came out pretty spicy but I'm not complainin'. The sauce is delicious and full of flavor but before I added the shrimp I coated lightly with salt, pepper, and ground coriander for seasoning. I also added a touch more water to the sauce to stretch it out a bit and served over basmati rice. It was very good - thank you.
Mince ginger, garlic, shallots and chilies in food processor.
Put oil in wok or large skillet and turn heat to medium-high; a minute later, add minced spices and cook, stirring constantly, for about 30 seconds.
Stir in tomato paste, lime juice, nam pla, soy sauce, sugar and 2 tablespoons water. Add shrimp and coat with sauce. Cook just until sauce is bubbling and shrimp turns pink, about 5 minutes.
Serve over rice or noodles.