Pellerin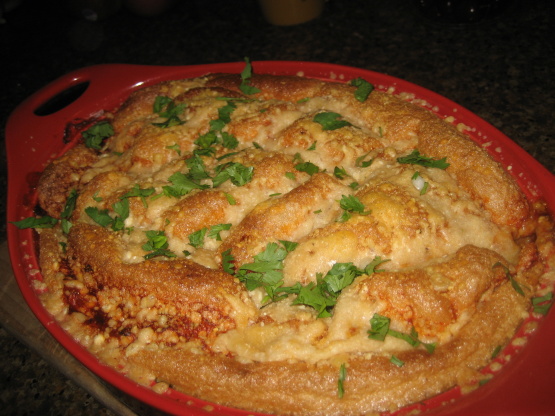 Several friends and I were joking about "'70's Food" earlier today, which made me a little nostalgic. Here's one of my old (OLD) stand-by favorites from that era. Alas, no "Cream-of-Anything" soup included, nor aspic'ed mystery substances, and not a fondue pot in sight. Nothing authentically culturally correct...just simple, good ol' '70's fare. Nothing fancy. *Dead easy* to make. It's simply 'got a good beat, and I can dance to it.'

Hit of the brunch - used crab w/o olives, enchilada sauce. Used the 4 cheese blend, 4 ounces each of cream cheese and mascarpone, the fresh minced onion, cilantro, fresh skinned, seeded and diced Roma tomato. Used the batter recipe w/o beating the eggwhite separately - came out DELICIOUS. Keeper recipe - will be trying with shrimp and sweet fresh corn this summer!
1

(7 ounce) can whole green chilies, drained (or 2 cans CHOPPED green chilies)

4

cups grated mixed cheeses (sharp Cheddar, Jack, Asiago, Pepper-Jack, Parm, WHATEVER)
2⁄3 cup fresh cilantro leaves (chopped-believe Brits call it "coriander leaves?")

1

large roma tomato, seeded, juiced, chopped

1

onion, diced (sweet, Saute' if you have time)

4

eggs, separated, yolks in a small bowl, whites in a large bowl

1

teaspoon cumin
1⁄2 teaspoon chili powder
1⁄4 cup milk
1⁄4 cup flour (or corn masa flour)
1⁄2 teaspoon salt
1⁄2 teaspoon pepper
1⁄4 cup parmesan cheese, grated
1⁄4 cup sour cream

1

(8 -10 ounce) can enchilada sauce
Preheat oven to 350º. Spray a 9 x 9 casserole dish with non-stick vegetable spray (Pam) - especially the SIDES and top edges. If using whole chilies, split them open. Either way, cover the bottom of the dish with chilies.
In a bowl, toss together the grated cheeses, tomato, olives, onions, and 3/4 of the cilantro. Place in the casserole dish, over the chilies. Drizzle about 1/3 of the can of enchilada sauce over this.
Separate eggs yolks from whites. Beat the egg whites until very frothy, but.
not too stiff and meringue-like. In a separate bowl, combine yolks, milk, flour, cumin, chili powder, salt and pepper. Fold egg whites into the yolk mixture, and pour this combination onto the casserole.
Drizzle with remaining enchilada sauce. Bake 20 minutes. Top with Parmesan. Bake another 15-20 minutes, until top is golden-brown-and-delicious. Cool for 10+ minutes before serving. Top with dollops of sour cream and chopped fresh cilantro.