Chili Potato Dippers With Cheddar Jalapeno Dip
teresas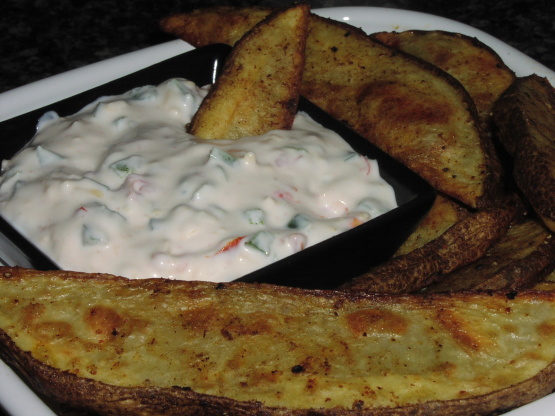 From Pillsbury Classic Recipes, these are good as an appetizer or as a side dish.

Well this didn't hang about long!!
I cooked my wedges in a foil tray on the gas barbecue, turning them over every now and then to crisp up on all sides...and they came out beautifully.
I skipped the tomato in the dip and popped in a little extra jalapeno, as we like it hot..but it certainly wasn't overly spicy..just a nice depth of heat.
A fabulous combination that was greatly enjoyed with a nice cold beer on the side...perfect for a sultry summer evening.
Made for PMR.
Heat oven to 450ºF. Line 15x10x1-inch baking pan with foil; spray foil with nonstick cooking spray.
Cut potatoes into thin wedges. In large bowl, combine potatoes, oil, chili powder and garlic powder; toss to coat. Place on sprayed foil-lined pan.
Bake at 450ºF for 20 to 30 minutes or until tender and golden brown, turning once.
Meanwhile, in medium bowl, combine all dip ingredients except onions; mix well. Sprinkle with onions.
Ingredient Substitution:.
Purchase prepared salsa for a simple dip for these roasted potatoes or offer a choice of both salsa and Cheddar Jalapeno Dip.
Make It Special:.
For a colorful presentation, garnish the dip with extra tomatoes and chiles in addition to the green onions.
Recipe Variation:.
Try baked potatoes topped with Cheddar Jalapeno Dip for a spicy change from the usual sour cream garnish. Or serve the potatoes as a tasty side dish without the dip.