Chili Plum Stir Fry Chicken
breezermom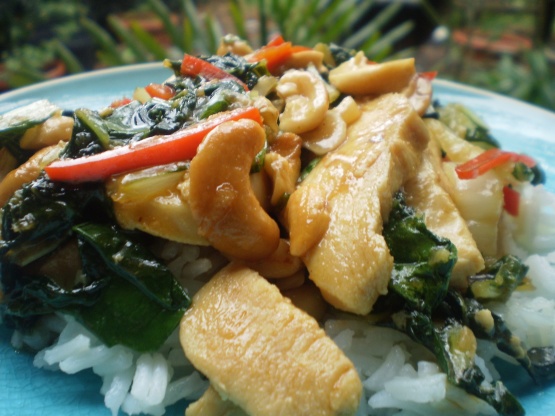 This is a combination of two recipes from taste.com.au that the DH and I combined to come up with something we both really like. The night we made it we had several dishes on the go and I was prepping for them as well so times are estimated to if you were only cooking this dish UPDATE - o'kay making this once again I have added other vegies tonight which were some julienned carrot, broccoli and cauliflower flowerettes and snow peas and served on top of some hokien noodles - just a variation. ANOTHER UPDATE - we tried this tonight Have now tried with beef, rump strips (possibly could be better to beat out and cut into strips though we think. depending on the quality of your rump) and added 3/4 teaspoons chinese five spice to step 2 but would suggest 1/2 teaspoon) but still thoroughly enjoyed and we are smacking our lips still 2 hours later.

This is so tasty, we live in an area where there are many good Chinese restaurants and this rivals what they serve! I didn't know what choy sum is (we probably call it something else) so I used two bunch of baby bok choy, and it was delicious! Also, I could only find roasted and salted cashews and that didn't detract at all from the dish. I loved this so much it is jumping into my 2013 Best of cookbook! Thanks for posting.
Heat a wok over high heat until hot and add 1 tablespoons oil and swirl to coat.
Mix oyster sauce, plum sauce, dry sherry and chilli sauce to mix.
Add a 1/4 of the chicken and stir fry for 2 to 3 minutes or until browned and transfer to a bowl.
Repeat till all chicken is cooked, adding more oil as needed.
Add 2 teaspoons oil to wok and swirl to coat and add the garlic, ginger, onions and chilli and stir fry for 30 seconds and add choy sum and stir fry for 1 minute or until bright green.
Return the chicken to the wok and add the sauce mix and stir fry for a minute or until combined.
Stir through cashews and basil.
Serve with steamed rice or fried rice.