Chili, Plain and Simple but Darn Good
vrvrvr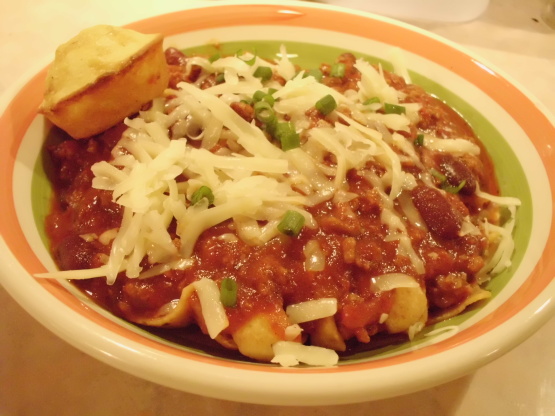 This is plain and simple but makes a wonderful chili, you may add in other ingredients if desired, my family likes this topped with cheddar cheese and sour cream then served with Kittencal's Parmesan Garlic Bread or Garlic Toast --- I strongly suggest to make this 1-3 days ahead the flavors will intensify and ripen, you will really notice a difference in flavor if made ahead --- all amounts may be adjusted to taste.

You sure know all the tricks for making a great meal. The chili hasn't even finished simmering and I already love it. We'll see what the Super Bowl party people think. Changed a couple things to our taste. We like our chili alittle thicker so added abit more beef & drained the beans. Reduced the red pepper flakes & cumin abit to cut some of the heat, however, next time I'll add the full amount cause I didn't find it overly spicy. Added chopped baby canned corn for an interesting color/texture.
In a large pot brown the ground beef with onion and green bell pepper until no longer pink; drain all fat.
Add in garlic, oregano and chili flakes; cook stirring until browned (about 12-15 minutes, for the best flavor the meat must be slightly browned).Add in chili powder and cumin; cook stirring for 2 minutes.
Add in stewed tomatoes, tomato sauce and seasoned salt; bring to a boil over medium heat stirring.
Reduce heat to low and cook uncovered for 1-1/2 hours stirring occasionally.
Stir in the beans with their liquid and continue to cook for another 30 minutes, stirring occasionally.