-Sylvie-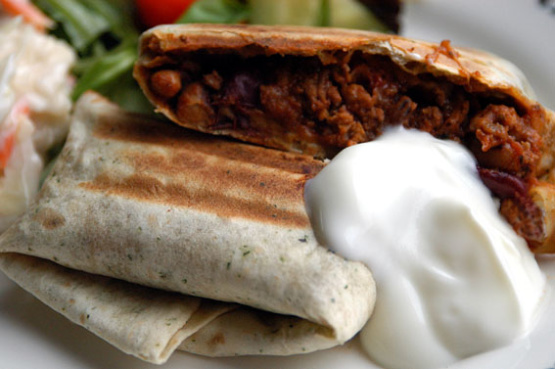 I came up with these when I had some left-over chili the other night and really didn't want to eat it the same old way. Serve them with a lovely side salad, some sour cream and guacomole and you won't believe you're eating left-overs. Of course you could make fresh chili to fill them or use chili from a tin and you also decide on how hot you want it to be
Divide the chili and the cheese between the flour tortillas, by spooning it into the very middle.
Fold over all four sides, overlapping them.
Preheat a George Forman type grill or sandwich maker and grill the parcels for approx 5 minutes, until crisp and golden on the outside.
You can add whatever other ingredients, such as pickled jalapenos or cubed tomatoes to the inside before grilling, just make sure you don't overfill them otherwise the parcels will leak when grilled.
Serve immidiatly with sour cream and guacomole.