Boomette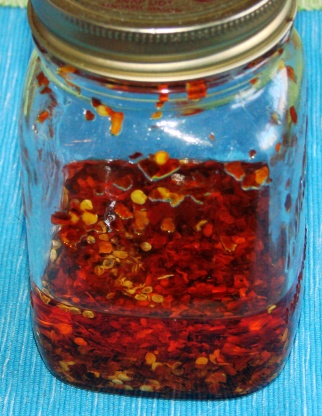 The best method of making chili oil for Sichuan cooking I have found - from the outstanding Fuchsia Dunlop book "Sichuan Cookery". I use it for dipping sauces etc; my hubby pours it over his pasta for breakfast! The more sediment you have, the hotter it is.
so easy to do and very spicy. Thanks currybunny :) Made for All you can cook buffet
100

g chili flakes or 100 g coarsely ground chilies, with seeds

550

ml peanut oil or 550 ml peanut oil or 550 ml corn oil
Put the chili flakes into a glass preserving jar.
Heat the oil over high heat until smoking hot.
Remove from the heat and allow to cool for about 10 minutes to 120 - 130 degrees celcius. (I don't have a themometer, I just cool for 10 minutes).
Pour onto the chilies, stir once or twice and leave to cool in a shady place. The oil and chilies will fizz and swirl around at first but the chilli flakes will settle as the oil cools. You can use the oil immediately, but the flavour and fragrance will improve after a couple of days.