PaulaG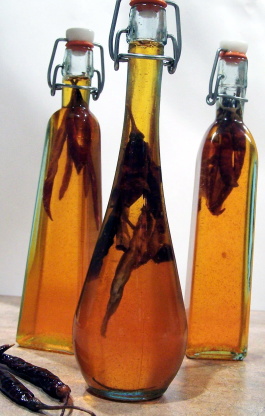 This is always in my kitchen cupboard and has many uses. Add to pasta, soups, stir fries, sauces, bruchetta, dips, etc. For a spicy bread dip use the oil and add fresh chopped herbs (parsley, basil, coriander) and garlic, add balsamic vinegar and salt and pepper to taste!!! The oil does not have to mature, it is ready to use after you have made it. Don't forget to add this to your gift baskets!

WOW, this oil is exceptional! Kickin good! I made it about a week ago and finally got to try it last night.Rubbed it on some veggies before I roasted them, what a treat! As mentioned by the first reviewer, it would make great gifts, I am looking for some fancy little bottles to put another batch in to give as little extras for Christmas. As suggested we tried it as an appy with French bread chunks and added garlic, balsamic vinegar, salt and pepper, Nuuummmmy!! We will be doing that again! Thanks for sharing a very versitile recipe!!
12

medium dried chilies, approx

2

cups corn oil

2

tablespoons sesame oil
1 1⁄2 tablespoons ground cayenne pepper
Chop up the chili peppers, put them in a pan with the corn oil.
Let this heat up for about 10 minutes. Make sure you don't let it get too hot!
Take off the heat and let it cool down.
Add the sesame oil and the cayenne pepper, cover and leave for 12 hours or longer.
Using a funnel and some cheesecloth, filter the oil into a clean bottle and seal.
If you make this to give as a gift add a few dried chilies to the bottle.