teresas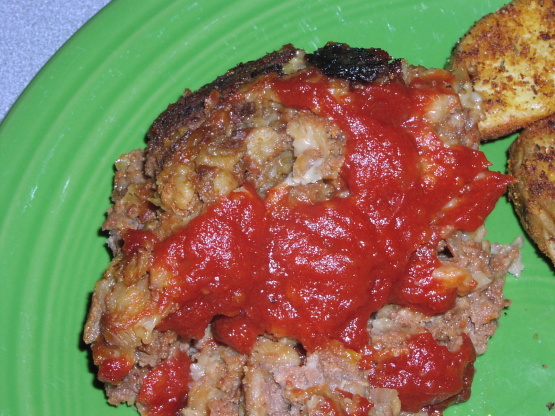 A nice tasting, simple recipe that my kids love. I try to make it as often as possible.

This was very tasty. I liked the ease of preparation but the foil didn't work for me. The meat stuck to it even tho I sprayed it. I used 1 1/2 lbs of meat and I think the 2 lbs would work better. It was a bit on the soft side. I cooked it for 3 1/2 hours. Overall a very good dish. Made leftovers for lunch today. Yum Thanks for posting. :)
Make foil handles for slow cooker. Do this by cutting three 18x3 inch strips of heavy duty foil paper; place in bottom of slow cooker in criss-cross strips to resemble bicycle spokes on a wheel.
Spray foil paper in slow cooker with cooking spray.
In a bowl, combine beef, beefy onion soup mix, oats, eggs, 3/4 cup chili sauce, and black pepper; mix well.
With your hands, shape meat mixture into round ball.
Place round ball into slow cooker; pat down into loaf shape.
Cover and cook on low for 3 to 4 hours. Before last half hour of cooking time, spread remaining chili sauce over top of loaf and continue cooking.
Use foil handles to lift meat loaf out of slow cooker.