Chili Mac (Cooking Light)
Redsie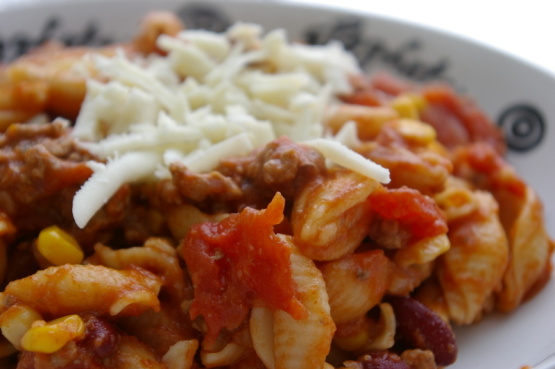 Another chili mac recipe - this one is from Cooking Light's Best of 10 Years. It was an instant hit with everyone in my family.

I was so glad to see this posted here! I believe this recipe was originally published in Cooking Light in an article on healthier school cafeteria food, which grabbed ny attention since if it's kid-friendly, it's probably DH friendly. Quick and easy, and a favorite with us. Add some cornbread and a green salad and dinner is done! The original recipe called for no-salt added tomatoes, corn, tomato paste, tomato sauce, as well as ground round and reduced-fat sharp cheddar. With those changes, this dish is even healthier than shown on the nutrition facts to the left: 7.2 g fat and 420 mg sodium. Thanks for sharing the recipe!!
Cook first 4 ingredients in a dutch oven over medium high heat till meat is browned, stirring until meat crumbles.
Drain well and wipe drippings from pan with a paper towel (if your beef is lean enough, you won't really need to do this).
Return beef to dutch oven; add macaroni and next 10 ingredients.
stir well.
Bring to a boil; cover and reduce heat.
Simmer 20 minutes, stirring occasionally.
Spoon into individual serving bowls.
Sprinkle 2 T cheese over each serving.