Pamela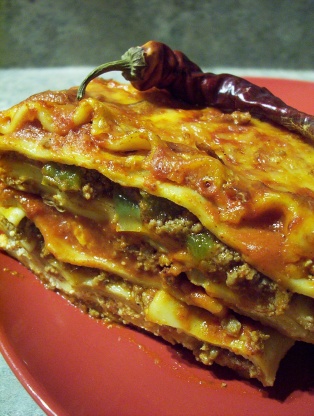 This is so good. I got this from a woman's world magazine and I made it for superbowl last year and it got a standing ovation!!!

We didn't really care for this. It should of been hotter when you see what kind of ingredients where in it. I won't be making this again.
Cook noodles according to pkg directions, drain.
Preheat oven to 350.
Crumble beef into nonstick skillet.
Add onion, gr pepper, 1/2 tsp cumin, 1/2 tsp chili pwdr, 1/2 tsp salt & pepper.
Cook, stirring until beef is browned; drain
Stir in 3/4 cup enchilada sauce; remove from heat
In bowl lightly beat egg.
Stir in ricotta, 1/2 cup shredded cheese, remaining cumin, chili pwdr and salt.
Spread 1/2 cup enchilada sauce in 13X9 baking dish.
Arrange 3 noodles over sauce.
Spread with cheese mixture.
Top with 3 noodles.
Spread with beef mixture.
Top with remaining noodles.
Spread with remaining enchilada sauce.
Cover with foil, bake 45 minutes.
Remove foil.
Sprinkle with remaining shredded cheese.
Bake uncovered until cheese is melted and sauce is bubbly about 10-15 minutes
Let stand 10 minutes before serving.
To Freeze: Flash freeze uncooked, wrap and label.
To Reheat: Defrost overnight, and cook per directions.