Rita1652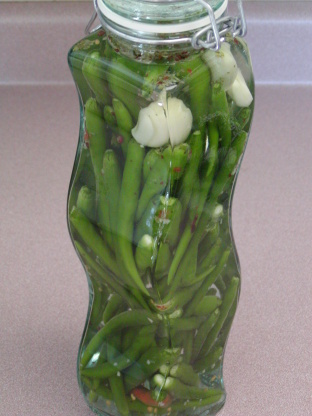 Here's a spicy vinegar for those of you that like it HOT! You can use any chili pepper you can get. Use to flavor your salad dressings or to marinade any piece of meat you like. This is a great way to display the excess peppers from your garden. It's so pretty I've seen people not use it and just display the pretty bottles. Great for gift giving.Oh Yes you can eat the peppers if you can handle them!

When dad was alive he would always make his 'special' vinegar..the recipe was never written down. I searched high and low and found no comparison. Found your recipe last night. This is it! :) Made one batch today, more peppers coming on in the garden. Every one in the family will be happily surprised come Thanksgiving day..lol....(early Christmas). This recipe has brought back some very good; and hot memories. Thank you for sharing!
10

ounces Thai peppers

4

cloves garlic

2 -3

cups distilled vinegar

2

teaspoons coarse seasoned sea salt (with cracked peppers and garlic)
Pack chili peppers and garlic into a sterilized jar.
Add salt and vinegar.
Cork and give a shake.
Let sit in a cool, dry, dark place for flavor to be released about 3 weeks giving a shake occasionally.
Should last about 6 months.