teresas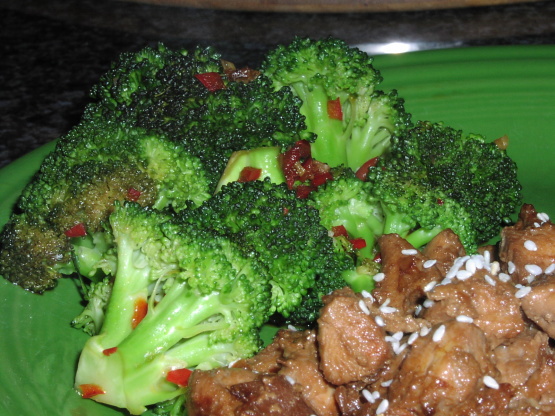 This is a recipe of one of my friends. It was modified from a recipe with Kai-lan (Chinese broccoli) that her mom made back at home in China. She used Western broccoli because Kai-lan was usually pretty expensive where we were living. The measurements are estimates as she would do it by the look of it.

Great ZING! in this dish, with the garlic and chili. Nice change from plain steamed broccoli. Thanks for this keeper.
500

g broccoli (about one large head, chopped into bite sized florets, chop off the biggest ends)

1

long red chili pepper, chopped

1

garlic clove (finely minced or pressed)

1

tablespoon vegetable oil

2

tablespoons dark soy sauce (important because it is sweeter, which you need with the less sweet Western broccoli, if you don't h)
Boil water for steamer.
Put broccoli in steamer for 4 minutes until slightly soften.
Heat oil in pan on medium heat and fry chili and garlic for a minute.
Turn up heat to high, add broccoli and stir occasionally for a minute.
Add soy sauce, stir, cover and cook for a minute.