Prep 10 mins
Cook 40 mins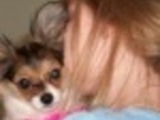 They say that necessity is the mother of invention. I did a lot of inventive cooking when I was a single mom of 3 hungry boys. Cheap and filling were top on the list, followed by...kids will eat it! I noticed other chili dog casseroles posted but they all call for hot dog buns. If you have a bun, make a hotdog! if you don't..make a casserole. hahaha
8 hot dogs
1 (15 ounce) can chili (no beans)
1⁄2 onion, chopped finely
1 tablespoon mustard
1⁄3 cup water
1 cup cheddar cheese
1 (12 ounce) can refrigerated biscuits
Directions
Spray 7x11 inch pan with nonstick cooking spray. Preheat oven to 400 degrees.
Cut hotdogs into bite size pieces. Cut biscuits into quarters. Place biscuit pieces in bottom of dish. Layer hotdog bites over biscuits.
Mix onion and mustard together and spread.
over hotdogs. Combine 1/3 cup water and can of chili. Pour over ingredients in casserole dish.
Place in oven and bake for 30 minutes. Sprinkle top with cheddar cheese and bake for another 10 minutes. Let set for 10 minutes before serving.
Recipe can easily be doubled and cooked in 13x9 inch pan.
Most Helpful
Clever and fun! Really tastes just like a chili dog! I made this as written and mixed a little ketchup in it too. Gives the adults heartburn just like a real chili dog too! ;) Sauerkraut would be great in this! Thanx for sharing this fun recipe.

This was ok, but I would have to make a few changes in order to make it again. First, bake at a maximum of 30 minutes because baking for 30 then putting the cheese on and baking for another 10 burnt the bottom and top of the casserole. Second, I would suggest another can of chili because one for me just wasn't enough it seemed very dry.. besides that it was pretty good
SO GOOD!! Piece of cake to put together and my family loved it! Thanks for sharing!