Dotty2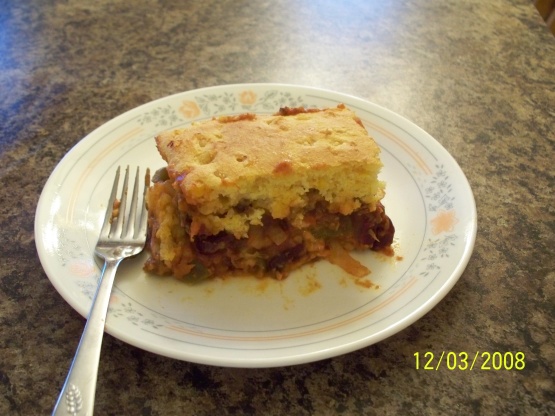 A casserole recipe that has become a favorite at our house. It's an excellent make and take - makes for an empty pan and recipe requests.Recipe has made it's way into a number of our local fund raiser cookbooks thanks to the sharing of a local teacher extrordinaire who is also an awesome cook!

I made this last night and, unforunately, did not care for it. The taste was fine, but the texture and technique were lacking. First, there is too much cornbread for this small amount of chili. The bread overwhelms the chili. Second, the cornbread batter has no shortening or oil in it, so it cooked up much heavier and denser than cornbread usually is. Third, the bottom cornread layer ended up very leaden in comparison to the top layer, which cooked normally. If I were to try this again, I would use my regular cornbread recipe, make a half-batch, and spread it over the top of the chili, skipping the bottom layer altogether.
Preheat oven to 350 - grease a 2 quart casserole.
In large pan over medium heat cook ground beef, onions, pepper and garlic until meat is browned - drain.
Stir in beans, tomato sauce and taco seasoning; reduce heat and simmer 10 minutes.
In medium bowl: combine flour, cornmeal, sugar, baking powder and salt; mix well.
In small bowl: combine corn, milk and egg - beat well and add to dry ingredients.
Spoon half of the cornbread mixture into greased casserole; sprinkle with half the cheese.
Spoon chili over cheese; sprinkle with remaining half of the cheese.
Spoon remaining corn bread mixture evenly over the cheese spreading gently to cover.
Bake at 350 for 30 to 40 minutes or until top is golden brown.