lazyme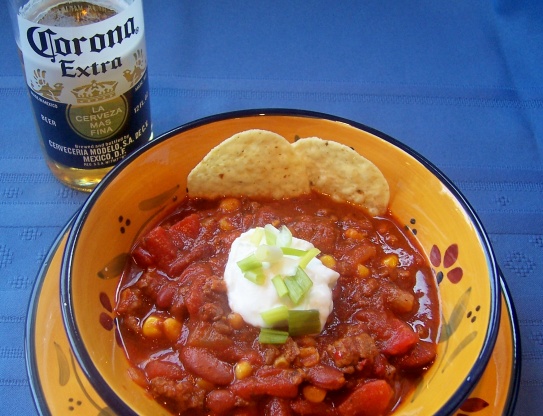 I compiled some recipes and then played with it some more and ended up with this. My husband says it has a zing to it. It's hot but not too hot, I can't handle it too hot. Feel free to play and make your own concoction... vegetarian...ground turkey...soy sauce...just have fun!

This went over very well. There did seem to me a bit of redundancy in the ingredients, so in Engrossed's spirit of "Feel free to play" I omitted a few. I usually dispense with salt added anyway, and thus in place of fresh garlic plus garlic powder plus garlic salt, I just increased the number of garlic cloves and left out the other two. Likewise, there's a number of sources of "heat" here--cumin, red pepper flakes, cayenne, Tabasco sauce and hot paprika. Ikept the cumin and cayenne, increasing the latter a bit, and substituted sweet for hot paprika to retain the paprika contribution to flavor. The result was delish indeed and I do recommend adding the balsamic vinegar (I actually used a bit more than 1 Tbs); it does NOT impart a vinegary taste but does add, just perceptibly a bit of zing.
In a large pot, brown ground beef with onion. Drain.
Add garlic and dry spices. Cook stirring for 2 minutes until fragrant.
Add tomato paste, molasses, brown sugar, Worcestershire sauce and Tabasco sauce. Stir until combined.
Stir in the rest of the ingredients (except vinegar). Bring to a boil. Turn down heat to low and cook uncovered for 1 hour, stirring a few times.
Add balsamic vinegar. Stir.
Serve hot with shredded cheese, sour cream and chopped green onions.