Chili Con Queso Dip (Or Enchilada Sauce)
Bobtail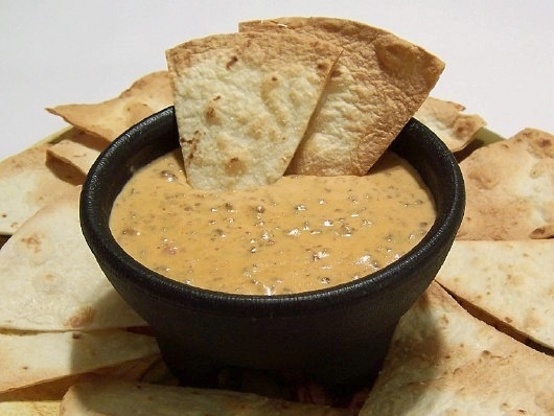 This is a fantastic dip for chips and also makes a wicked sauce for enchiladas! Serve this for your next get together, everyone will LOVE this I promise! Even better, you can use the Mexican blend of Velveeta cheese for this if desired. Use a good-quality mild cheddar cheese such a Cracker Barrel or Black Diamond brand. Adjust the hot sauce to taste. The dip will thicken as it cools, it is best served from a small crockpot to keep warm you could even cook the complete recipe in the crockpot! Since the store-bought canned chili has very little added ground beef, you could always add in more cooked ground beef is desired!

I thought this would be a great crowd pleaser for my Halloween party. It got mixed reviews (my friends are very honest). Some said it was OK, others said it looked like dog food and wouldn't even try it. I personally didn't even try it b/c I didn't think it looked good at all. I followed the recipe exactly. I'm sorry. I think I might try it again w/ homemade salsa and homemade chili and will write another review.
In a heavy saucepan over low heat melt the Velveeta and mild cheddar cheese; stir until completely melted and combined.
When the cheese has melted add in the salsa, chili, sour cream, chili powder, garlic (if using) and hot pepper sauce; cook over low heat for about 8-10 minutes.
Serve warm.