Lia S.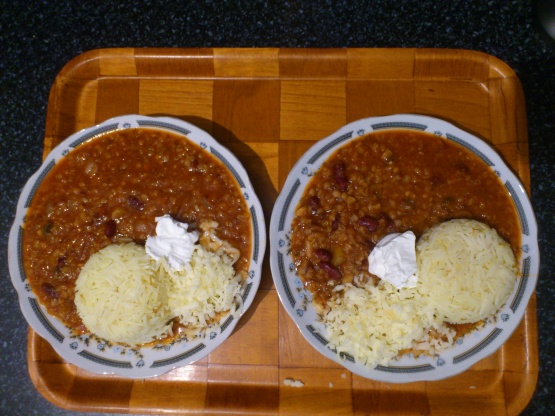 The texture seems more like chili con carne than most vegetarian chilies. We love this and have it often.
Top Review by Lia S.
I read the reviews beforehand and so added extra kasha/greshka; about a cup. I also used fresh diced tomatoes, pepper paste, an ancho chile, and some tomato paste. I used celery instead of green pepper and didn't use the veggie stock at all. It ended up being thick and chunky, and could serve 4 people easily. Great recipe!
In a large soup pot, heat olive oil over medium-high heat. Add onions and cook, stirring occasionally, until soft, about 3 minutes. Add garlic, bell pepper, and tomatoes. Cover and cook 5 minutes. Add kasha, wine, and broth. Stir to blend. Cook, covered, 5 minutes. Add kidney beans, chili powder, cumin, cilantro, and bay leaf. Cover and cook over medium-low heat for 40 minutes.
Add mushrooms. Add salt to taste. Simmer for 5 minutes. Discard bay leaf and cilantro.
Serve hot. If desired, serve with sour cream, chopped scallions, and grated cheese on the side.