Chili Con Carne in a Flash
Prep 10 mins
Cook 20 mins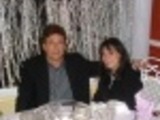 I know, some people might take offense to this cheater's version of chili preparation. Believe me, I do have my recipe for traditional, slow-cooking chili. But this is for those nights when you don't have much on hand and you're hungry. It sure beats peanut butter and jelly then!
Directions
In medium skillet over medium heat, cook beef, onion, chili powder, and garlic until onion is tender and beef is thoroughly cooked and no pink remains, stirring to break up meat. Drain off fat.
Stir in beans, soup, water, and vinegar. Heat to boiling. Reduce heat to low. Simmer 10 minutes, stirring occasionally.
Serve over rice, if desired.
Most Helpful
I used veggie crumbles for the beef, crushed tomatoes for the soup and Mexican seasoning for the chili powder. That said, this was some excellent chili. It's thick, hearty and really tummy filling as well as delicious. I'll make this again even when I have plenty of time. :D

I'm not usually one for taking too many short cuts,especially where something like chili is concerned, as it's one of our favourite things to eat..and like Jackie,I too have a great slow cooking recipe....BUT (and it is a BIG but!) this recipe really is very good!!
For a few simple ingredients it has good flavour (do not leave out the vinegar-it may sound a little odd,but it really adds to it!), and is incredibly speedy to produce...hence the five stars.
Thanks Jackie-now I can really can have chili in a flash!
Made for PRMR.