Redsie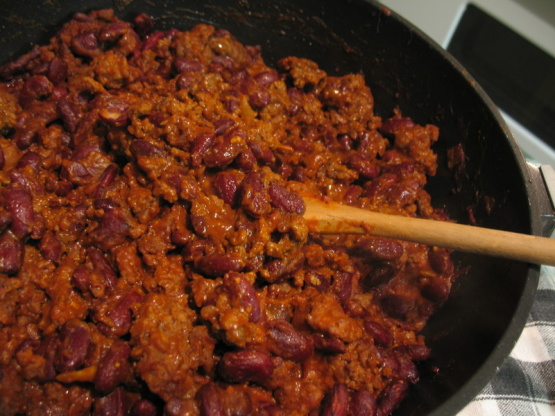 Zesty "south of the border" specialty. This is the recipe for chili my mother has always used. It's not too hot and not too mild. It's just right. I entered it into a chili cookoff once and it won first place.

Nice recipe. I did make a few modifications since my BF isn't crazy about beans and I like more tomato flavor: only one can of beans, and increased the meat to 1 1/4 lbs. Also added 8 oz. tomato paste and half of one yellow pepper, diced. I did add the salt, but skipped the water and flour. Ended up with a good, flavorful chili - thanks!
Cook ground beef and onion in 3 T hot butter until browned.
Add the kidney beans and tomato soup and cook 10 minutes.
Combine the chili powder, flour, water and salt and make into paste. Blend into ground beef mixture.
Bring to a boil and then cover and cook over low heat, stirring frequently, 45 minutes. Depending on your taste, feel free to add more or less chili powder. Serve hot -- with crackers or warm bread.
If you like your chili less thick, just add the chili powder in step three and omit the flour, water and salt.