WiGal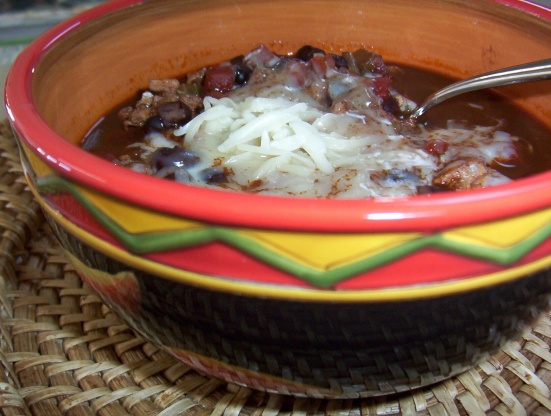 This is not an authentic chile con carne recipe so, if that's what you're looking for, you've come to the right place! Another thing it's not is spicy-hot - I have 3 small kids to think of and I gave the recipe just enough of a kick so that I knew we could all eat it. If you like very spicy, be sure to up the seasoning amounts. And that's no blarney! An entry of RSC#11.

Top Review by WiGal
A very nice chile. Based on Chef#486725 recommendation I made this for the Top Favorites of 2008 game. I used ground turkey breast instead of ground beef and queso monterrey jack cheese for the gouda. I added 1 more teaspoon of chile and we felt it was pretty mild with the additional chile. We would have preferred more tomatoes in it. The cocoa was nicely subtle and gave it a dark broth. The honey was an excellent choice-I usually add a bit of brown sugar to mine so this was a new idea for me. Thanks evelyn/athens for posting. Made for Top Favorites of 2008 tag.
Brown ground beef, breaking up beef with back of spoon. If beef renders a lot of fat during cooking, be sure to drain off before proceeding with recipe (I use a very lean cut and have my butcher grind it for me). Add onion (or shallot), garlic, celery, chili powder, cumin, oregano and cayenne. Season with salt and pepper to taste and continue to cook for another 3 minutes.
Add diced tomato, water, honey, cocoa and worcestershire sauce. Stir to incorporate. Bring to a slow simmer and cover pot. Forget about it for the next 30 minutes.
After 30 minutes, give chili a stir. Taste it and adjust seasoning - you may want more salt or heat. Add beans, bring to slow simmer, cover pot and cook another hour. Uncover pot and check consistency - if you like your chili thicker, increase heat and boil, uncovered, for a few more minutes.
Serve in deep bowls, topping chili with 1/3 cup coarsely grated gouda cheese (either regular or smoked - both are good in this). Add a small dollop of sour cream or greek yoghurt, if you like.