Thorsten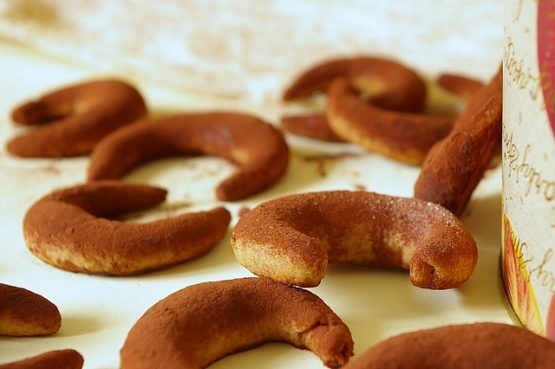 Ready for something different, something addictive? You like it spicy and you like cookies not overhelming sweet? Are you looking for a surprising treat? Then try these cookies. They have a wonderful texture. On the first bite you will have the taste of buttery cinnamon with a delicate crunch. Then of roasted almonds and hatzel nuts and then the highlight, the pepperiness of cayenne (or chili). I use cayenne for these cookies and I like this spicy, almost hot ending taste of these cookies. The shape of these cookies is in Germany known for cookies called "Kipferl" (shaped like a "C" or like a "half-moon"). The cookies will rise just a very little during baking. For the texture of the cookies, it is important that the cookies are "cooled", so that the butter inside is firm enough. If you like it a bit sweeter dust the cookies with powdered sugar (instead of dutch processed cacao). Hope you will enjoy this different treat as much as I do.

I thought these were ok,good but not the strong flavor i was expecting.I made them for a party and my family seemed to really like them so maybe it's just my taste buds.I tend to like things really spicy.
If you are using dried chili crunch them as fine as possible and measure then 1/2 teaspoon.
In the bowl of your food processor add the first six ingredients.
Heat a pan over medium high heat and roast the grounded almonds until golden. Immediately remove from heat and add to the other ingredients.
Cut butter into pieces and add to flour mixture. Add egg yolk.
Mix in your food processor until dough is formed. Take dough out of the bowl, knead once or twice and then form a roll (this will make it easier to divide dough later).
Wrap dough roll into cling film a put it into fridge for 30 minutes. Line out baking tray(s) with parchment paper.
Take dough out of the fridge and cut roll into 10 slices. Cut each slice into 4 pieces. You should now have 40 little dough pieces.
Roll each pice into a roll of about 3 to 4 inches in lenght. The middle of each roll should be a bit thicker and let the roll taper off towards the ends. Put the rolls onto the baking tray forming a "C" (half-moon shape).
Put the baking tray(s) in a cold place for about 30 to 60 minutes.
Meanwhile preheat oven (390 F, 200 C).
Bake the cookies for 10 minutes. Let them cool completely on a cooling rack. Dust them with (unsweetened) cacao powder.
NOTE: cooking time is given for one baking tray. Time to make includes 60 minutes for cooling the dough.
NOTE: I put the cookies on the baking tray into the fridge for 30 minutes. It is important to keep the formed cookies for 30 minutes in a cold place. The butter in the cookies has to be cooled completely.
NOTE: these cookies are very spicy. If you don't like them spicy reduce the amount of cayenne pepper / dried chili pepper.