Chili Chicken With Avocado Sauce
vdm86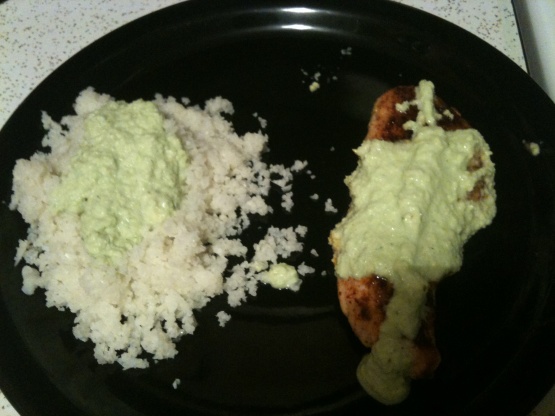 A great summer chicken dinner dish. We love avocados at our house so the sauce is almost more popular than the chicken so you might want to double that part of the recipe. Also I like to take whole cumin seeds and use them freshly ground! The flavor is much better.
Sprinkle chicken with cumin, chili powder, salt and a dash of cayenne on each.
In a blender or food processor, combine avocado, yogurt, garlic, 1/4 cup water, lime juice, 1/2 tsp salt and cilantro. Blend until smooth.
In fry pan with lid, brown chicken in olive oil 2 minutes on each side. Cover, lower heat and cook until just done, approximately 3 minutes.
Serve chicken with avocado sauce poured over it.