Linajjac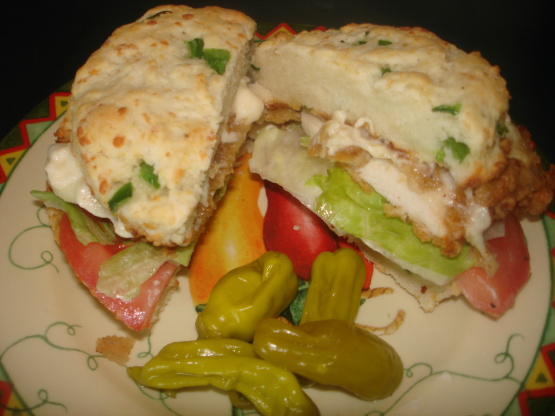 An outstanding biscuit recipe that is especially good with Tex-Mex inspired meals like chili con carne or a spicy beef stew. Or, just split and stuff with scrambled egg and ham or bacon and you've got a mean breakfast!

Fantastic Biscuit. I have always had problems making biscuits, but these were great. I will admit that I didn't use the minced jalapeno, I just used a little pepper sauce. I will use the minced jalapeno next time though, I just didn't have any in the house this time. This recipe made 10 very large biscuits for me.
Make biscuits: Into a bowl, sift together flour, baking powder, baking soda and the salt; add the butter and blend the mixture until it resembles coarse meal.
Stir in the cheddar and the chilies; add the sour cream and stir the mixture until it just forms a soft, but not sticky, dough.
Knead the dough gently for 20 seconds (about 6 turns) on a lightly-floured surface.
Roll or pat it out ½ inch thick and with a 3 ½ inch cookie cutter, cut out 8 rounds.
Bake on an ungreased baking sheet in the middle of a preheated 430F oven for 15-17 minutes, or until they are golden.