Sara 76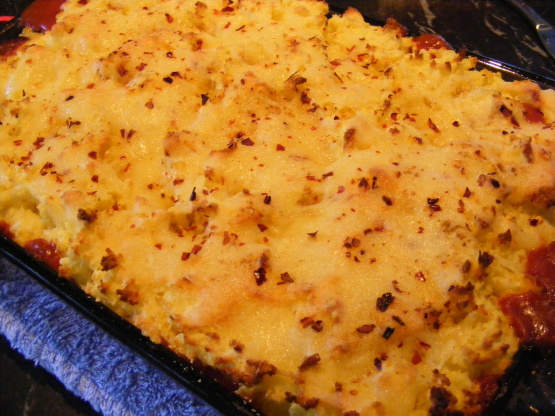 A really easy family mid week meal that can be on the table in about 30 minutes. You can use any ratio of potato to parsnip or all potato or all parsnip for the topping. If you can't find kidney beans in chili sauce, just add 2 tsp of chili powder and 50g chopped roasted peppers instead. This isn't over spicy, making it fine for the younger members of the family. This can be made ahead of time and heated in the oven for about 30-40 minutes.

Top Review by WiGal
Hubby raved about this! Told me to add it in to the regulars and shall. Yum-love Mexican food! Because we are only two people, I made the entire meat portion (with ground turkey breast) then scooped out part of it for casserole dish and topped with leftover mashed potatoes and put rest in fridge for chile. Thank you Noo for a delicious supper!
Heat the oil in a large frying pan, then soften the onion with 1 tsp cumin seed for a few minutes. Push the onion to the edge of the pan, add the beef, then brown well, breaking up any lumps.
Add the garlic, beans, tomatoes and half a can of water. Season and cover. Simmer for 20 minutes.
Cook the parsnip and potato in boiling salted water until soft. Drain and mash with some salt and pepper.
Tip the mince mixture into a large ovenproof dish, spoon over the mash, scatter with remaining cumin seed and grill for 5 minutes or until golden.