Food.com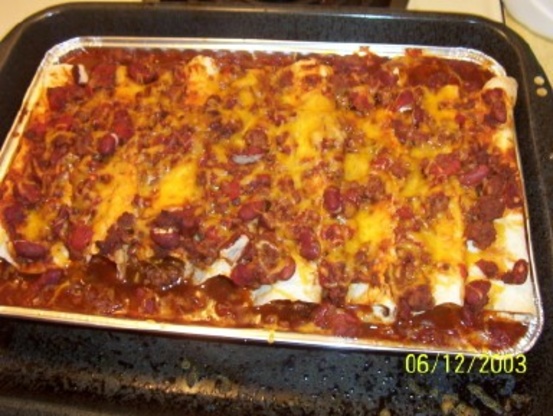 Got this recipe from my best friend. My family devoured this. Got the big thumbs up.
Reserve half of onion for filling; cook beef and remaining onion in a large skillet over medium-high heat until beef is no longer pink; drain and return to skillet.
Stir in seasoning mix, next 4 ingredients, and half of green chiles.
Cook over low heat, stirring occasionally, 8 minutes.
Reserve 1 cup meat mixture; spoon remaining meat mixture into a 11x7 inch baking dish.
Stir together 1 1/2 cup cheese, reserved onion, and remaining chiles.
Spoon evenly down centers of tortillas.
Roll up tortillas; place, seam side down, over meat mixture; top evenly with meat mixture.
Bake at 35o degrees for 20 minutes or until thoroughly heated.
Sprinkle with remaining 1/2 cup cheese and bake 5 more minutes.