Chili and Beer-Braised Catfish
Ang11002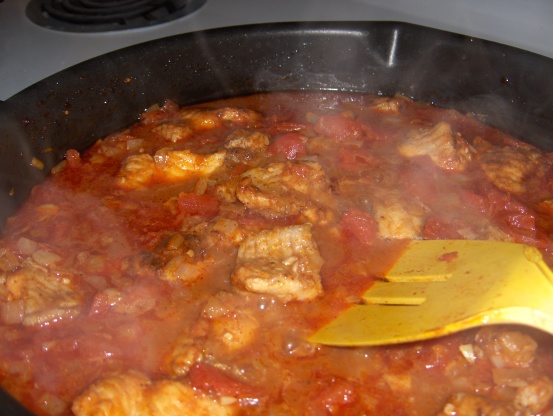 This is a quick, tasty and different alternative to fried catfish. Tomatoes, beer, chili powder, garlic, onion, Worcestershire sauce and a shot of Tabasco combine in a delicious simmering sauce. This makes a lot of sauce; I like to save what isn't used and add a few impromptu ingredients for a nice homemade seafood stew.

excellent and simple to make. a little spicy for me but maybe because I only used it for 2 filets.
In a large plastic ziplock bag, combine flour, chili powder, garlic and salt.
Add catfish pieces and coat thoroughly.
Heat olive oil in a large skillet and brown catfish on all sides, about 3 minutes per side.
Remove fish to a plate; set aside.
Add onions to skillet and cook for about 5 minutes or until turning golden.
Add beer, tomatoes with their juices, Worcestershire sauce and Tabasco sauce; simmer together about 5 minutes, then return browned catfish to skillet and simmer uncovered until done, turning occasionally, about 15 to 20 minutes.