IngridH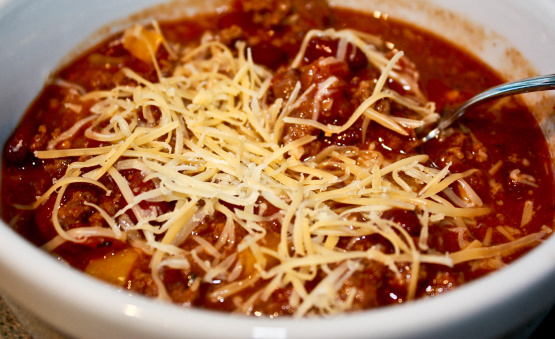 This is a really beefy chili, and makes a great, hearty meal on a cool evening.It's not a terribly spicy version, but if you want to turn up the heat, add some cayenne along with the other spices. I often add more seasoning at the end of the simmering time to suit whomever I'm serving. I probably get more requests to make this than anything except my gumbo. This also freezes beautifully (if you have any left!). I hope you enjoy it as much as I do!

Top Review by dcbru
The chili was fantastic! I made some substitutions and it still was amazing! I substituted ground tukey for the beef, browning it over low heat while constantly stirring to keep the meat tender, increasing the amount of meat to two lbs. I substituted chicken broth for beef broth, since I was using poultry as opposed to beef. Lastly, I substituted canned crushed tomatoes for diced, since that was what I had in my pantry. To preserve the juices from boiling out, I transferred the chili to a crock pot and simmered on high for the remaining 1-1/2 hours of cook time. The finished chili was topped with shredded Colby and Jack cheese, as well as a dollop of sour cream. Fresh hot cornbread just completed the dish. Sooo good! This recipe is a keeper! Thanks for sharing it!
In a large Dutch oven, heat the oil.
Add the beef and brown.
Remove the beef, leaving about 1 tablespoon of fat in the pan.
Add the onions, and cook, covered, over low heat for about 5 minutes.
Uncover, raise the heat to medium, and cook until the onions are evenly browned (but not burned).
Sprinkle the flour over the onions, and cook for another minute.
Add the browned beef, tomatoes, tomato paste, pepper, garlic, broth, chili powder, cumin, oregano, salt, and vinegar to the onions.
Bring to a boil, then lower the heat and simmer, covered 1 1/2 hours, stirring occasionally.
If the chili gets too thick, you may add some water or broth to thin.
Taste the chili, and add more seasonings to adjust to your taste.
Add the bell pepper, and continue to simmer for 15 more minutes.
Add the beans and simmer for an additional 5 minutes.
Serve in heated bowls and top with sour cream and green onions, if using.