ClareVH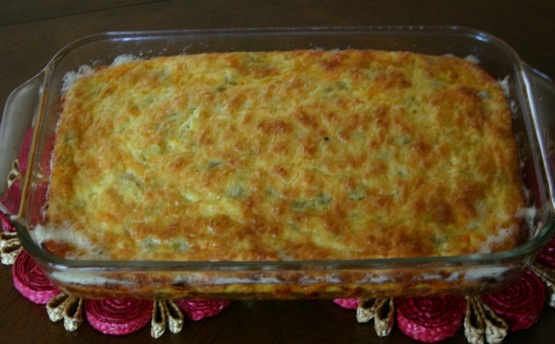 This is my first Recipe post, so I wanted it to be a good one! I adapted this recipe from one I clipped from the L.A. Times in 1978. The original recipe called for canned diced green chiles and Monterey Jack Cheese instead of fresh chiles and cheddar. It is tasty both ways. It is a good brunch or light dinner dish. I like to serve it with salsa and sour cream. My co-workers request it when we have a brunch potluck.
Preheat oven to 350 deg F.
In oven, melt butter in 8-inch square pan, tilting pan to grease sides.
Beat eggs in a bowl.
Add flour, baking powder, melted butter, chiles, cottage cheese and cheddar cheese.
Mix well.
Pour into prepared baking pan and bake for 35 minutes or until golden.