PaulaG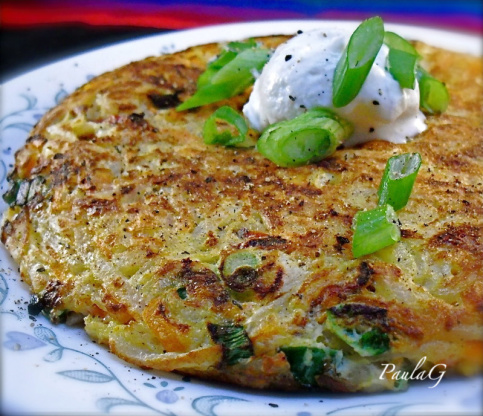 Ready, Set, Cook! Special Edition Contest Entry -- On a recent trip to Chile I had the opportunity to experience a frittata made with shredded carrots and egg. This recipe is a combination between the classic Spanish tortilla of egg and shredded potato with the addition of carrots and other tasty bits.
Top Review by PaulaG
I was really torn on how to rate this. It has a nice flavor and was a creative use of contests ingredients. For me it seemed a little dry. That may have been because I grated in to much carrot or that the carrots could have benefited from being cooked a little with the potatoes or both. After cooking the potatoes they were tossed into the bowl with the other ingredients. There was such a small amount of oil use that they were pretty dry after cooking. I did flip the tortilla as I would a frittata to get the beautiful golden crust. This was served topped with Greek yogurt and garnished with green onions. Sliced tomatoes and avocado completed the meal. Good luck in the contest.
29.58

ml grapeseed oil

473.18

ml Simply Potatoes® Shredded Hash Browns

2

medium carrots, shredded

2

green onions, thinly sliced

118.29

ml aged goat cheese, grated

59.14

ml sun-dried tomato, thinly sliced

3

eggs, beaten
salt and black pepper

29.58

ml butter or 29.58 ml grapeseed oil
Heat the oil in a non-stick saute pan over medium heat. Add the potatoes and cook until golden brown. This is best achieved by allowing the potatoes to sit on the bottom of the pan for a few minutes before stirring to create a browning. Once potatoes are cooked, 5-10 minutes, remove from pan and place on a plate lined with a paper towel to cool.
In a large bowl, combine all the ingredients except for the additional 2 tablespoons oil. Add the potatoes and stir to combine.
Wipe out the pan and heat a the pan over medium heat. Add the fat and allow to coat the entire pan. Add the potato mixture and cook stirring gently until it begins to set. At this point, turn the heat up to medium-high and allow the bottom to brown. Cover with a lid for a few minutes to set the top and remove from heat.
Turn out onto a plate and serve with sour cream or thick yogurt and green onions for garnish. .